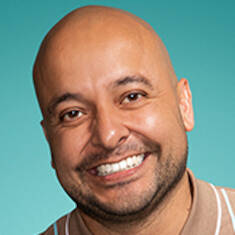 Frankie Quiñones
Thursday, Jan 04 2024 7:30PM
Friday, Jan 05 2024 7:30PM

Friday, Jan 05 2024 9:45PM

Saturday, Jan 06 2024 7:30PM

Saturday, Jan 06 2024 9:45PM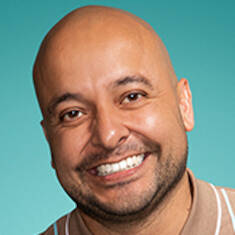 Artist's Website
Video
Frankie Quiñones
Frankie Quiñones is a stand-up comedian, actor, and creator best known for his character work. Frankie stars in the new ABC Studios Hulu show This Fool.
His new podcast The Frankie Quiñones Show, presented by Will Ferrell's Big Money Players Network and iHeart Radio, features sketches of colorful characters based on the friends and family that helped shape him into the powerhouse comedian he is today.
Frankie tours as himself but also as "Creeper" (a reformed cholo turned fitness guru) and "Juanita Carmelita" (a spicy suburban drama queen). Frankie's characters have racked up millions of views, and Creeper's Cholofit Exercise routines have become viral sensations. Frankie's repertoire of characters also includes party bro "Afradooshie", feel-good guardian angel "Pachanga", and he's got plenty more ready to debut. Frankie Quiñones brings a performance compared to a one-man variety show.
He recently co-starred in a Lifetime movie alongside Mario Lopez, entitled Feliz Navidad, and was a series regular on TBS' The Dress Up Gang. His half-hour HBO MAX special Superhomies is streaming now.
In addition to his stand-up and online sketches, Frankie voices key characters in Cartoon Network's Victor and Valentino, in HBO MAX's upcoming animated series, Fired on Mars and stars in episodes of FX's What We Do in the Shadows. Additionally, he has made appearances on Comedy Central, HBO, TBS, and Nickelodeon.
Looking to dine before the show at Comedy Works South (Jan 4 ONLY)? Dine at Lucy Restaurant. Make your reservations now at LucyRestaurant.com.
ATTENTION: 100% of ticket redemptions require the ORIGINAL purchaser to be present, as verified by government-issued ID. If buying tickets as a GIFT, check "This is a gift" AT TIME OF PURCHASE (will call names cannot be changed after the fact). Must be 21+. Two-item minimum. Be ON TIME! If you arrive more than 30 minutes after the show's scheduled start, your tickets are subject to be canceled WITHOUT refund. Resale of tickets is not permitted and will not be tolerated (review our ticket resale policy). No refunds or exchanges. All sales are final.