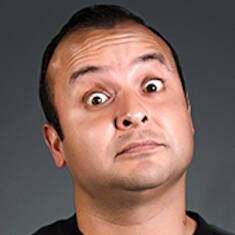 Frankie Quiñones
No events have been scheduled for this comedian.

Join our club and we'll notify you when shows are coming up.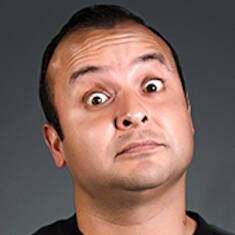 Artist's Website
Video
Frankie Quiñones
Frankie Quiñones takes the stage along with live performances by his characters "Creeper" (CholoFit) and "Juanita Carmelita" (The Funny Drop).
Frankie Quiñones is a stand-up comedian, actor, and creator best known for his character work. Frankie stars in the upcoming ABC Studios Hulu show entitled This Fool, which premieres on August 12, 2022.
His new podcast The Frankie Quiñones Show, presented by Will Ferrell's Big Money Players Network and iHeart Radio, features sketches of colorful characters based on the friends and family that helped shape him into the powerhouse comedian he is today.
Frankie tours as himself but also as "Creeper" (a reformed cholo turned fitness guru) and "Juanita Carmelita" (a spicy suburban drama queen). Frankie's characters have racked up millions of views, and Creeper's Cholofit Exercise routines have become viral sensations. Frankie's repertoire of characters also includes party bro "Afradooshie", feel-good guardian angel "Pachanga", and he's got plenty more ready to debut. Frankie Quiñones brings a performance compared to a one-man variety show.
He recently co-starred in a Lifetime movie alongside Mario Lopez, entitled Feliz Navidad, and was a series regular on TBS' The Dress Up Gang. His half-hour HBO MAX special Superhomies is streaming now.
In addition to his stand-up and online sketches, Frankie voices key characters in Cartoon Network's Victor and Valentino, and in HBO MAX's upcoming animated series, Fired on Mars. Additionally, he has made appearances on Comedy Central, HBO, TBS, and Nickelodeon.
Please review our ticket resale policy.