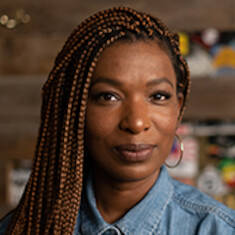 Janae Burris
No events have been scheduled for this comedian.

Join our club and we'll notify you when shows are coming up.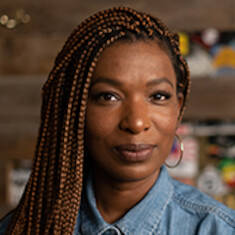 Artist's Website
Video
Janae Burris
Janae Burris (Just For Laughs/NBC First Look) is a comedian, actor and event host in Denver Colorado. Since moving to Colorado Janae has performed with Local Theater Co., Colorado Shakespeare Fest, The Denver Center for Performing Arts and most recently the starring role in Aurora Fox Theater's "Queens Girl In The World".
Her years growing up in one of L.A.'s most notorious neighborhoods, combined with her training in avant garde theater make Janae's comedy style something similar to a one-woman show, a perfect fit for Shit Talk Tours, which she hosts regularly at the Museum of Contemporary Art in Denver.
She has opened for nationally touring comics Michael Che, Roy Wood Jr., Beth Stelling, Josh Blue and Gary Gulman to name a few. Janae has been featured at Portland's Bridgetown Comedy Festival, Limestone Comedy Festival in Bloomington Ind, Telluride Blues Fest and High Plains Comedy Festival in Denver as well as headlining at Ha Ha Harvest in Portland and Aspen Laugh Fest. Janae is a 2019 Just For Laughs New Face. She is a "Pro" on the coveted regulars list at Comedy Works in Denver as well as the 2016 Comedy Works New Faces Champ. She has showcased at NACA West, Midwest and Central. She is a founding member of Pussy Bros, her stand-up comedy girl gang with Christie Buchele and Rachel Weeks, who made their television debut on NBC's First Look. (Ok, technically her first TV appearance was on Family Feud where she lost her shot at $10, 000 because what they don't tell you on FF is that the real feud is between you and your own damn family.)
Follow her on social media @negativenegro– it's not just a handle, it's a lifestyle.
ATTENTION: 100% of ticket redemptions require the ORIGINAL purchaser to be present, as verified by government-issued ID. If buying tickets as a GIFT, check "This is a gift" AT TIME OF PURCHASE (will call names cannot be changed after the fact). Must be 21+. Two-item minimum. Be ON TIME! If you arrive more than 30 minutes after the show's scheduled start, your tickets are subject to be canceled WITHOUT refund. Resale of tickets is not permitted and will not be tolerated (review our ticket resale policy). No refunds or exchanges. All sales are final.