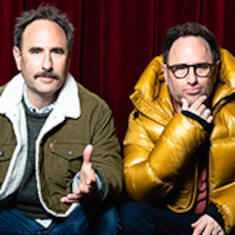 The Sklar Brothers
Thursday, Feb 01 2024 7:30PM

Friday, Feb 02 2024 7:15PM

Friday, Feb 02 2024 9:45PM

Saturday, Feb 03 2024 7:15PM

Saturday, Feb 03 2024 9:45PM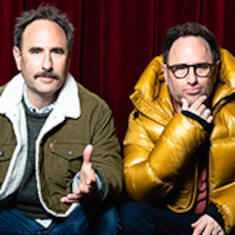 Artist's Website
Video
The Sklar Brothers
Randy and Jason Sklar began as one zygote and later guest starred in many TV shows. Including, Curb Your Enthusiasm, It's Always Sunny in Philadelphia, Adult Swim's Children's Hospital, Playing House, IFC's Maron, Better Call Saul, Glow, Roast Battle lll, CNN's The History of Comedy. They can most recently be seen in FX's What We Do In the Shadows.
The Sklars starred as conjoined twins in a memorable episode of Grey's Anatomy, and as warring agents on HBO's Entourage. The Sklars have also appeared in such films as Touchstone's Wild Hogs, Fox Atomic's The Comebacks, and the popular Netflix movie Teacher of the Year, alongside Keegan Michael Key. They also hosted the History Channel docu-comedy The United States of America and appeared monthly on Showtime's Jim Rome in their regular segment Sklarred For Life. Their cult hit, Cheap Seats, is on ESPN Classic and they appeared in the regular segment The Bracket on ESPN's SportsCenter. They regularly fill in as guest hosts for Jim Rome on his radio show.
They have two half hour Comedy Central Presents specials. The Onion A.V. Club named their comedy album Henderson and Daughters in their Top 10 Comedy albums of that year. They recorded, The Sklar Brothers: What We Are Talking About on Netflix to rave reviews. They later released another one-hour special – Hipster Ghosts – on the Starz Network.
Randy and Jason currently reside in LA where they record, View From the Cheap Seats, a podcast featuring guests from Bill Burr to Bob Costas. They also developed Dumb People Town, an animated half-hour comedy with Will Arnett.
Looking to dine before the show? Dine at Lucy Restaurant. Make your reservations now at LucyRestaurant.com.
Please review our ticket resale policy.