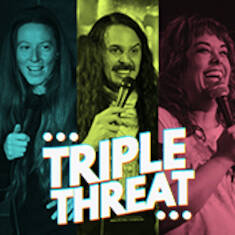 Triple Threat
No events have been scheduled for this comedian.

Join our club and we'll notify you when shows are coming up.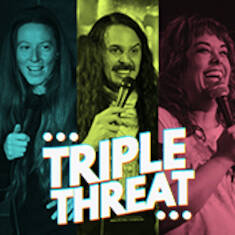 Artist's Website
Video
Triple Threat
You are in for an AMAZING show! This is a comedy grand slam! THREE nationally recognized headliners, Christie Buchele, Matt Cobos, and Georgia Comstock, are bringing you their half hours all on one awesome show.
Christie Buchele — Christie Buchele is a nationally touring comedian who is known for sharing the hilariously raw realities of being a woman with a disability People have described her as "Brave" and her own mother says "Christie is funny despite what I think." She has been featured on Viceland's Flophouse, Hidden America with Jonah Ray, Laughs on Fox; and First Look on NBC teaching The Bachelor's Ben Higgins how to do stand-up comedy.
Matt Cobos — Matt Cobos is a stand-up comedian and one-dude party from Denver, Colorado. His quick, ridiculous, punchy style and kick-ass attitude quickly gets audiences onboard and ready for a good time. He also says "dude" and "hell yeah" WAY too much. Matt is a paid regular at Comedy Works Denver, and co-hosts the stand-up showcase Shots Fired with Mike Stanley. He also has a wild podcast called Cobos Patrick Podcast with co-host and comedian Patrick Richardson. Matt has been on the High Plains Comedy Festival, and has opened for Melissa Villaseñor, Josh Blue, Sam Tallent, and more.
Georgia Comstock — Georgia Comstock is a Denver based comedian. She is a regular at Comedy Works and performs all over the country. She has opened for Maria Bamford, Beth Stelling, Dan Soder, Duncan Trussell and more. Check out her clips and shows dates on Instagram @georgiaswild.
Please review our ticket resale policy.